Earn 70% more on average as a Chiry Health Professional.
Keep 100% profit for the services you provide for your clients
Your service, your money.
Join now and start earning on your terms.
Chiry is a platform that connects health professionals with individuals nationwide via in-home, on-site, and virtual services.
Get new leads, manage appointments, accept payments, and track your clients' progress all from the palm of your hand.
Chiry is an exclusive provider platform limited to a small number of health professionals in a given area. We are currently optimized for Personal Trainers, Message Therapists, Chiropractors, Nutritionists, and Physical Therapists.
Chiry Health Professionals are guaranteed new leads and never have to give up a percentage of their profit.
Work wherever and whenever you want. Chiry Health Professionals are free to make their own schedules and set their own prices.
All of the necessary tools you need to be successful rolled up into one, easy-to-use app. Designed by providers, for providers.
After joining, you'll receive an email with instructions on how to download and login to our mobile app. ➝
Step 2: Set Up Your Profile
Set your availability, services, and prices. Share your profile with your clients, accept incoming appointment requests, and manage your business from your Chiry dashboard. ➝
Step 3: Unlimited Earning Potential
Be your own boss and make money on your terms. Accept payments directly through the app and cash out when you want. Chiry will never take a commission of your earnings so you keep 100% of your profit.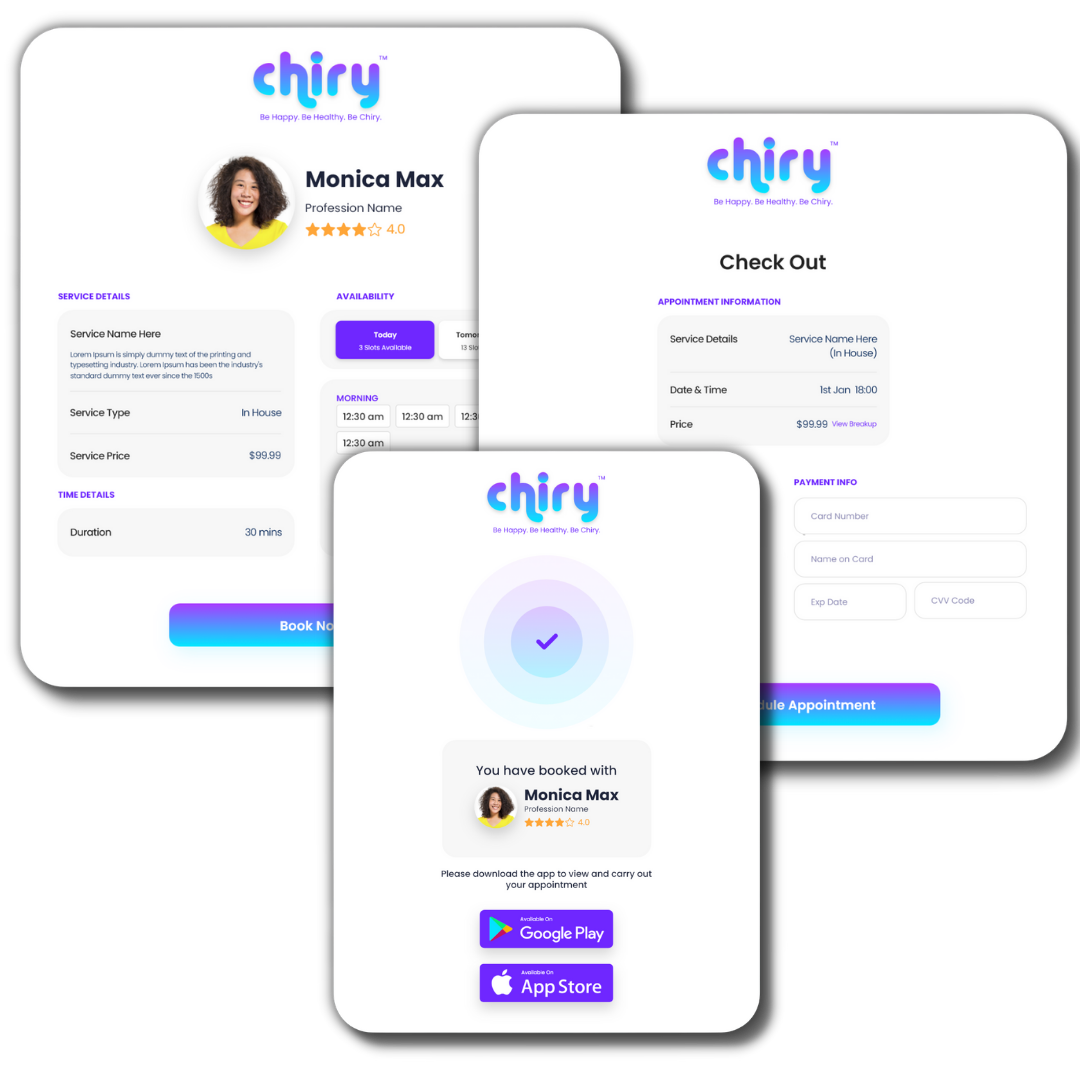 Seamless Client Experience
Your clients can easily book an appointment based on your services and availability through a direct link to your profile or by searching for health professionals on the user app. Remember, Chiry allows you the flexibility to work wherever, whenever, so you can go to them (with GPS tracking to their location) or they can come to you!
After they schedule an appointment, they will enter their pain-points into a HIPPA compliant notes section and 2-way messaging will be activated for further communication. Your client will also receive push notifications reminding them of their upcoming appointment so you'll never be stood-up again!
Chiry allows potential clients the ability to discover you in-app! We also offer plans that provide direct marketing to your profile so you can focus on providing care while we take care of the marketing.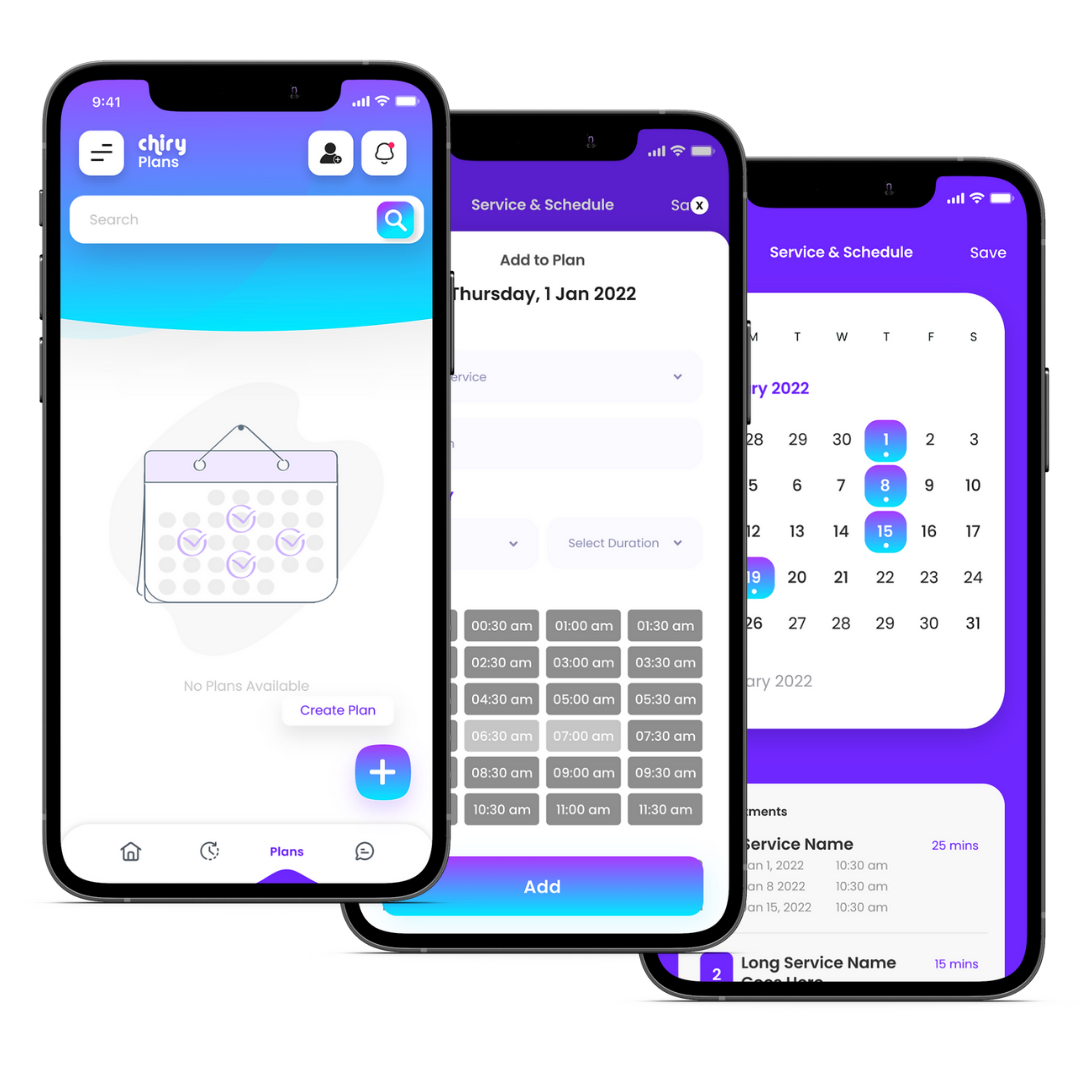 Chiry Application Feature List
Scheduling and availability calendar

Secure in-app payment processing to accept payments from your clients

Analytics to track your earnings

Customizable service location availability (Mobile, On-Site, Virtual)

HIPPA compliant SOAP/health notes to track client progress

Customizable treatment plans for your clients

GPS location and mapping for Mobile services

Two-way messaging and video conferencing for Virtual services

Automatic appointment reminders

Direct profile link to give out and promote on social media

Provider referrals - Easily refer clients to complimentary professionals
Save $36 (Normally $49.00)
Access to Chiry Mobile App

̶C̶l̶i̶e̶n̶t̶ ̶s̶e̶a̶r̶c̶h̶ ̶e̶x̶p̶o̶s̶u̶r̶e̶

̶P̶r̶o̶v̶i̶d̶e̶r̶ ̶r̶e̶f̶e̶r̶r̶a̶l̶ ̶n̶e̶t̶w̶o̶r̶k̶

̶D̶i̶r̶e̶c̶t̶ ̶p̶r̶o̶f̶i̶l̶e̶ ̶a̶d̶v̶e̶r̶t̶i̶s̶e̶m̶e̶n̶t̶

̶D̶e̶d̶i̶c̶a̶t̶e̶d̶ ̶C̶h̶i̶r̶y̶ ̶S̶u̶c̶c̶e̶s̶s̶ ̶M̶a̶n̶a̶g̶e̶r̶
Perfect for professionals who are looking for an easy way to manage, track, and simplify their business.
Save $100 (Normally $199.00)
Access to Chiry Mobile App

Provider referral network

̶D̶i̶r̶e̶c̶t̶ ̶p̶r̶o̶f̶i̶l̶e̶ ̶a̶d̶v̶e̶r̶t̶i̶s̶e̶m̶e̶n̶t̶

̶D̶e̶d̶i̶c̶a̶t̶e̶d̶ ̶C̶h̶i̶r̶y̶ ̶S̶u̶c̶c̶e̶s̶s̶ ̶M̶a̶n̶a̶g̶e̶r̶
Perfect for professionals who are looking to fire their boss and grow their client base while saving time and money.
Save $200 (Normally $499.00)
Access to Chiry Mobile App

Provider referral network

Direct profile advertisement

Dedicated Chiry Success Manager
Perfect for professionals looking to take it to the next level with an all-in-one solution that handles marketing and management.
Our plans are carefully curated to perfectly fit your needs as a provider. And don't worry, you can easily change plans or cancel at anytime!
Similar to making a purchase on Amazon, add your chosen plan to your cart and complete checkout through our secure online portal.
Download the Chiry Professional app for iOS or Android and login by using the credentials sent to your email after completing your payment.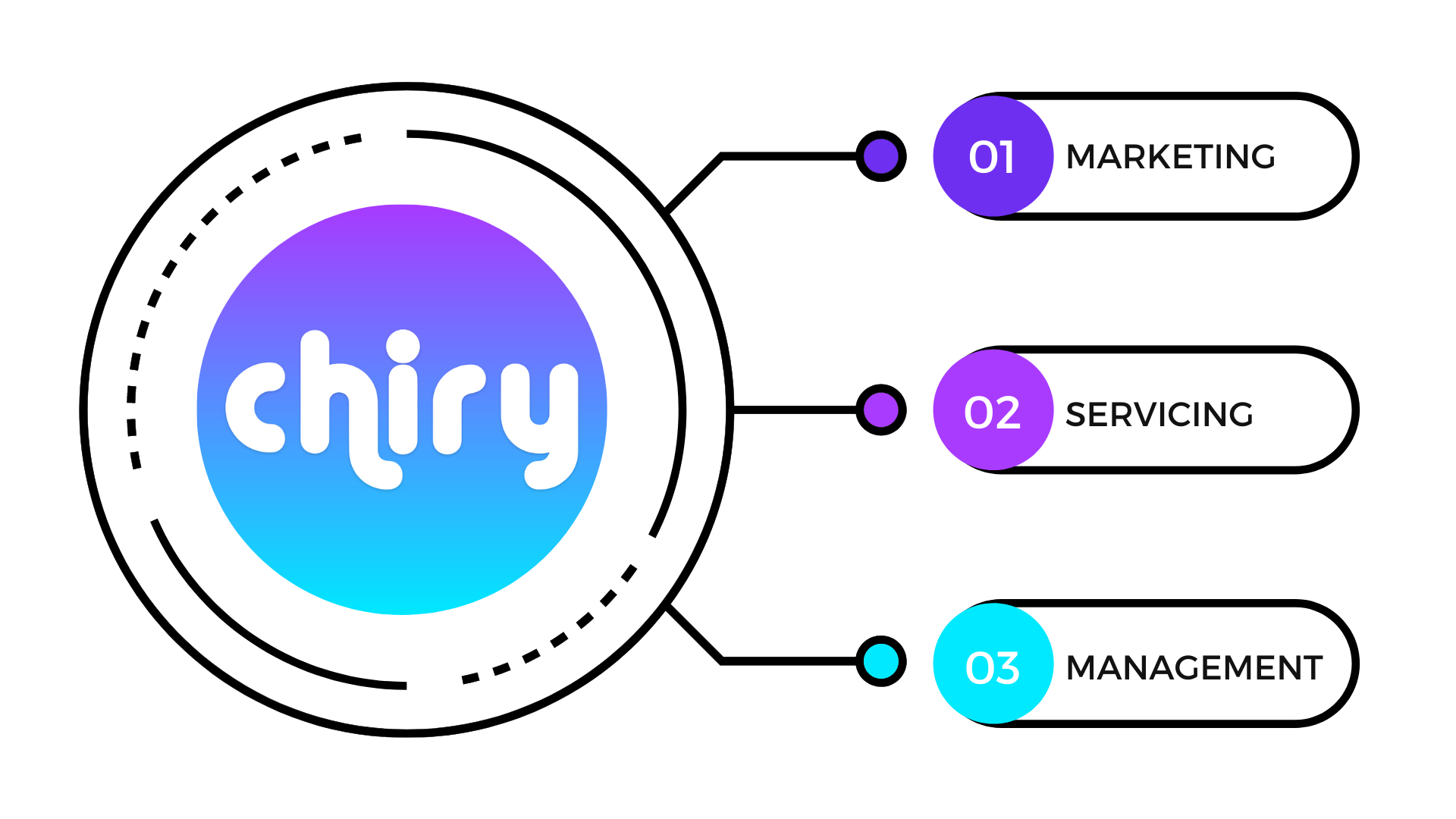 Chiry helps you market your services as a health professional through in-app searches, referrals, and direct profile advertisement.
Chiry saves you time so you can focus on what makes you money. Your services! Convenient 2-way communication helps you understand your clients' exact needs.
Scheduling, processing, tracking, treatment plans, reminders, follow-ups, the list goes on! Chiry handles all of it so you don't have to.
over 250+ satisfied providers
"It's like Uber for health professionals. Because of Chiry, I'll never have to work for anyone else other than myself."
MASSAGE THERAPIST, LOS ANGELES
"I had just gotten licensed as a personal trainer so I was starting from scratch.
I went with the Elite plan to build my client base and made back my monthly cost with my first client."
"If you're a health professional looking to work less and make more, you have to use Chiry.
It's that simple."
"I used to work at a gym for $20/hour while my clients were paying over $100/hour for my training. Now I keep the full amount."
PERSONAL TRAINER, PHILADELPHIA
"Trying to run my own practice was crazy! Chiry is exactly what I needed to consolidate everything. Literally a life saver."
"I would easily be spending thousands on marketing and multiple other platforms to achieve anything close to what Chiry is doing for me, my business, and my family. It's truly life changing."
Frequently Asked Questions
How soon can I start treating clients through Chiry?
If approved, you'll be able to login and start treating clients immediately! We recommend having a few clients ready to jump on and book your services through Chiry so you can start building up those 5-star reviews! They make a huge difference for potential new leads browsing your profile.
Once you complete your first appointment the funds will instantly show up on your Chiry profile. You will have the option to withdraw your earnings directly to the bank account connected to your profile as often as you would like! Chiry doesn't take a percentage of your earnings, however, the funds will still be subject to standard credit card processing fees.
When will I be able to download the mobile app?
The Chiry Professional mobile application is available now for download in the App Store and Google Play. If accepted as a Chiry Health Professional, your login credentials will be emailed to the email address that was used when submitting the application. If you haven't heard back from us within 24 hours, check your spam/junk folder.
What documents are required?
All Chiry Professionals are required to have active licenses and/or certifications for the services they are providing to their clients.
Can I invite other providers and clients?
Yes! Chiry is an invite-only community that allows Chiry Providers to invite up to 2 colleagues to join. Your profile picture will be displayed on their profile which will be seen by clients and other providers. There is no limit on how many clients you are allowed to invite.
I run my own practice. Will Chiry still work for me?
Absolutely! We offer full end-to-end services for professionals at any stage. Our goal is to help you achieve your goal.
I have a question that's not listed here. How can I talk to someone?
You can email us at any time at providers@chiry.co